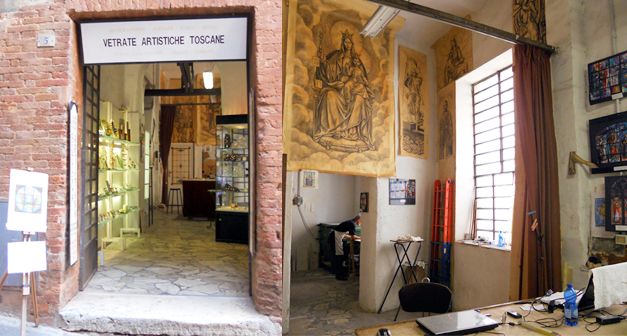 TECHNIQUES OF PAINTING ON GLASS 2022
VETRATE ARTISTICHE TOSCANE, will hold intensive workshops in the Techniques of Painting on Glass. Duration 2 weeks (Monday to Friday).
The course will take place in our workshop in the very centre of Siena (Tuscany).
The two week structure gives students with little or no experience, the possibility to complete a project including advanced techniques. Past experiences have shown us that all students (even those who have attended other workshops) need the first week of basic technique to access the second week of advanced work. It is therefore strongly advised /recommended to attend both.
Dates available (ask for dates).
The course will take place in our workshop
in the very centre of Siena (Tuscany).
CLICK HERE FOR MORE INFORMATION >>
All our courses are experiential and "hands-on", held by experienced teachers that will help spare you from committing the time wasting mistakes that all beginners make with projects/materials and, therefore, save you money. The theory of each workshop is followed by practical exercises in the construction of a small project, which remains the property of the student.
If at the beginning/end of the period you intend to spend a holiday in Tuscany, our studio is a source of information on places and events to visit. There are many options for flights arriving or departing from different parts of Tuscany so it is easy to plan a holiday where you take in sights like Florence and Pisa before or after the course. We are happy to give travel suggestions so please don't hesitate to ask.
If you have relatives/friends with you, we can suggest lots of itineraries in the city or a day-trip to the hill towns nearby.
Questions about our programs?
Contact Us | edu@glassisland.com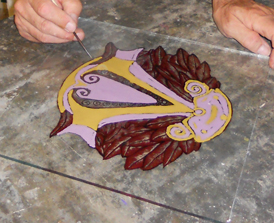 What We Offer: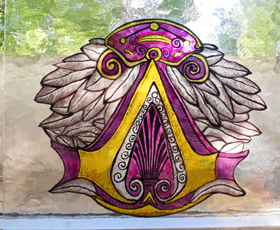 VETRATE ARTISTICHE TOSCANE
Via della Galluzza 5
53100 Siena (Italy)
tel. +39 057748033
Want to keep in-touch…