Our Stained Glass
For over 35 years, our glass studio has specialized in design, consultation and stained glass education for religious and secular subjects. We are available for restoration work as well.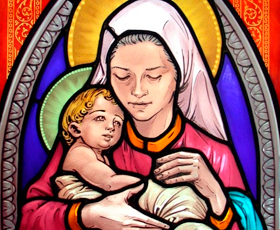 We are proud members of the American Glass Guild.
Glass Island is our "virtual window" where we display our work on the web.
Our Studio, Education & Stained Glass Artisans
Located in the medieval city of Siena, Italy, Vetrate Artistiche Toscane (glassisland.com) represents the continuing tradition of the production of stained glass that first began there in the 12th century. The creativity of Vetrate Artistiche Toscane is dedicated to the creation of stained glass and mosaics, both for religious and architectural purposes, and the technique of fusing.
Founded in 1987 by brothers Gianni and Massimo Bracciali, the studio has completed many architectural and religious stained glass projects in the United States, Canada, Caribbean, Europe and Italy.
Visit our jewelry shop where you can buy our custom high quality jewelry designs made with our glass
A tradition of excellence in glass for more than 25 years